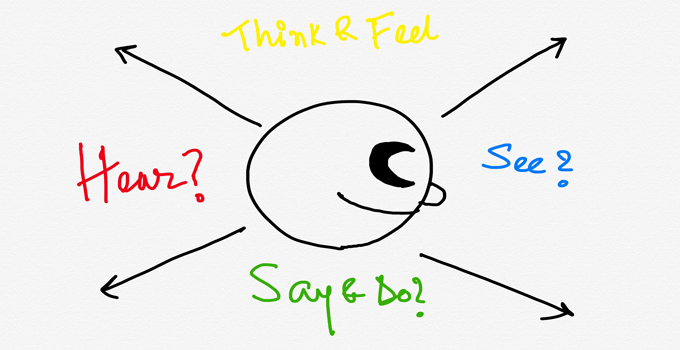 "Kay, you should fire your entire X team if you want us to be profitable…believe me, you are risking your reputation to save unworthy people! I'm seeing you for last six months, I know you care, but that's not going to make us money, rather you are risking your key performers for the weaker ones."… Said my young, energetic and Gen Y top management boss during a product performance review and the reason he was giving for the downfalls, was not marketing team's poor performance but some issue with one of my five teams responsible for product development. Alpha males might beg to differ, but this is true that testosterone does not encourage having feelings for your junior colleagues.
When I moved to leadership profile for the first time in 2006, I had no idea what empathy is all about. All I knew was that my team has to deliver and nobody whether an internal stakeholder or an external client should be able to question my team's efficiency or professionalism and being the leader it's my job to understand their strengths and weaknesses.
Understanding each team member and their problems became a part of my daily routine, and soon enough I could see the results of my efforts coming to effect.
Over a span of four months, they transformed from a non-performing low confidence team to a team of supreme confidence for getting things done on time and with quality. Being empathetic came with a two-fold offering, some called me names like management-unfriendly, ill-communicative, too-much team friendly, over-protective manager, etc. but some also recognized me as a good manager, top-notch leader, clinical performer, people-friendly, etc.
Are empathy skills core to women? Probably yes, but it isn't something soft or fluffy or a sign of weakness. Empathy is the simplest yet one of the most challenging skills to harness and teach. It can revolutionize business if applied correctly but it can also spoil the party if manipulated incorrectly. Empathy isn't about pleasing people but understanding the impact of your behavior on others. It always worked for me. I have built teams, developed world-class software, transformed underperformers to superb employees. Nothing of which was possible if I did not value empathy and emotional intelligence.
The evidence shows that emotional intelligence and empathy pays. Among the L'Oreal sales-force, the best empathizers sold nearly $100,000 more per year than their colleagues. Waiters who are better at showing empathy earn nearly 20% more in tips. Even debt collectors with empathy skills recovered twice as much debt.
Till today most corporates and managers fail to understand the power of empathy. They want to run businesses purely on pay no attention to people who work empathically and bring results. The good thing about empathy is, it can be taught and explained if one has interest. One can hone it with time. It is the time we start transforming the workplace around us purely by empathy skills and make sure that empathizers are valued. It's time for us leaders to create a culture around empathy and emotional intelligence.